Grandpa Bannister
The Saga of George Bannister Sr., Father of Mary Bannister
by his great-granddaughter, Laura Bunker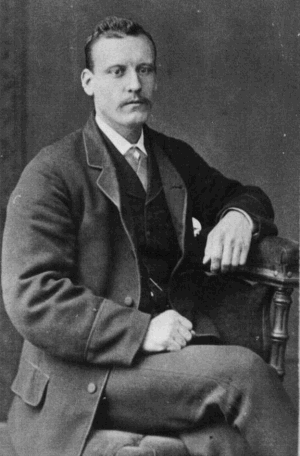 George Bannister, Sr.
"George Bannister" is the name you've heard in Russell tales of old.
He's grandma Mary's father, and we've heard the story told,
When 13-year-old Mary asked if she could be baptized,
He offered her some money as a consolation prize,
And later when she begged him if she could gather unto Zion
He ranted and he raved and he bellowed like a lion.
He argued until midnight, then he finally gave in,
But he promised her she'd never see her family again!
He seems to be so proud, so stern, so mean and even scary,
At least that's what we think of him from tales of grandma Mary.
But the part of his life we hear most, was not the beginning,
And it wasn't the end, the curtain, or the last and final inning.
Many other events occurred, both after and before.
There were even many wonderful surprises yet in store.
Let's reach our hearts deep down into the family history canister
And pull out all that we can find about dear old grandpa Bannister.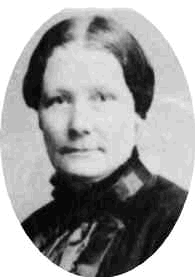 Catherine Younghusband Bannister
First she was widowed by the sea, and then she lost two sons to the sea
He was born in 1855, on 10th day of September
In Durhamshire England, as you'll probably remember.
His dad was William Covosia, his mom, Catherine--with a "C"
But when he was only 13 years old, his father drowned at sea.
His brothers were both sea-captains, and they were shipwrecked too,
Leaving George the only son deciding what to do.
Catherine put him in the Army, thinking it would make him stout,
But he didn't like the army life, so she paid to get him out.
At 29 he was a mariner, and wanted someone to cherish,
While waiting for his ship to sail, he attended Stranton Parish.
He heard a young soprano voice attracting his attention.
Her name was Prudence Morley, and a beauty, I might mention.
They made a handsome couple and they sang sweet harmony,
For their friends and also for their future family.
They were married in the Stranton church, in 1884
It was the church where they had met, just a while before.
Their home was hardly furnished, so as the story's told,
George wanted to go to Australia, to try to hunt for gold!
The reasons for this drastic move are not entirely clear,
It may have had to do with work, and prospects for his career.
He didn't have an official degree, he was a "Donkeyman" they say.
He did the work of an Engineer, but with a lower scale of pay.
Perhaps he thought in Australia, he wouldn't need a degree,
To succeed as well as any man, in the land of opportunity.
They stayed in England for a year, while Prue took care of her mother,
But after she died, they sold all their things, and sailed to the "Land Down Under".
Their ship now docked in Brisbane, after nine long weeks at sea.
They made it alive, but Prue was sick with a bad case of dysentery.
In Australia, every man was trying to put gold in his quiver!
(If you want to try to imagine the times, see "The Man from Snowy River".)
Ranch help was hard to come by, so the ranchers came to the docks,
And the hospitals too, where they could find, those who were down on their luck.
One such "mate" came to George, and offered him work to do,
He cured Prue of her sickness, as a part of the contract too.
They crossed the out-back of Queensland, at least 1300 miles,
The land was dry and scorching, but Prudence bravely smiled.
George worked at the ranch for six hot months, until the baby was due,
They hitched a ride on a sheep-skin wagon to find some help for Prue.
It took them days of blistering sun, whirlwinds, thirst, and fatigue,
Till they finally reached a small settlement, a place called Torren's Creek.
The baby was born, they named her Kate, and Prue soon got her strength back,
They moved to a nearby mining town, a little known place called Black Jack.
It was here they settled for a while, and two little boys joined their clan,
In '87 George William was born; in '89 came Dan.
George was now a father to three, and he liked it pretty fine,
In Black Jack, he got his chance, to work in a real gold mine.
The miners were checked most carefully, each time they came out of the shaft
Their teeth and eyelids and fingernails too, were examined by one of the staff.
We'll never know if he went out on his own, to pan for gold by the hours,
But we do know in 1890, they moved to Charters Towers.
Charters Towers was the "Boom Town", Australia's latest wonder,
The only one bigger was Brisbane, the largest city Down Under.
The town was so full, that they had a hard time, finding place to call home,
They chose the small one near the creek, the sad future, then little known.
Thomas Carvoza was born to the Bannisters there in '91
But soon diphtheria's ugly grip took the lives of two little sons.
Five year old George and baby Thomas went to their heavenly abode,
Leaving George and Prue and Kate and Dan grieving a heavy load.
They decided to move to a different home, as the doctors were blaming the creek.
Their only choice was the mansion house--with the cemetery 'cross the street.
They could look right out the window, and watch over their boys, now at rest,
Their sorrow continued, but they carried on, just working and doing their best.
Now there were happier days in store, and things went well for a while.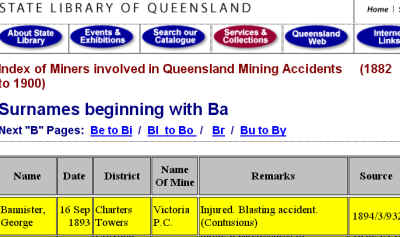 Kate would always remember that house, and her mother's pink cheeks and smile.
Then George got a blast of rock in his eyes, which made him temporarily blind.
And while Prue nursed him back to health, he played banjo to pass the time.
It wasn't too long before they knew, another child was on the way.
But Prue had a dream that her mother came, and lovingly took him away.
In March '93, baby William was born--and died after 20 days.
Their grief was softened by Prue's sweet dream, that he's in a better place.
A local minister, hearing the news and thinking himself very wise,
Came to their home and asked of Prue, if their children had been baptized.
"No sir", I don't believe in baptizing babies--sprinkling least of all."
"Then, Madame," the man replied, "Your children have gone to hell!"
Prue flung open the door, for the man, as she just couldn't take any more,
"Where those children have gone, I'd be glad to go," she declared, "and there is the door!"
The very next year baby George was born, healthy and strong to the bone.
Kate was now nine, Dan was six, and Prue felt it was time to go home.
They had been in Australia 10 long years--George's dreams not yet coming true,
Though he dreaded the trials of the mariner's life, he agreed, for the children and Prue.
They reached England's shores in '95, where a whole new life would begin.
George resumed work on the engines of ships, and the family was soon settled in.
In 1896, grandma Mary was born, their first-born in England's borders.
(Also the first with a male doctor, but he sat and obeyed Prue's orders.)
Mary was an observant child, growing up in West Hartlepool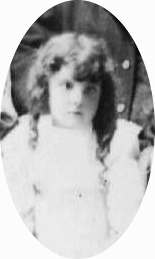 Mary, the first born in England
(When she was only three years old she'd occasionally sneak into school!)
She watched her world, but most of all she watched her father and mother.
She watched how they worked, and how they played, and how they treated each other.
Her father George took many long trips as he sailed the seven seas.
He always brought back a gift for his wife-- perfume, or a blouse with beads.
Upon his return, he and Prue would talk, and balance the money spent.
They'd go over their lists and count the costs, and put some aside for the bank.
While George was at sea in '99, Prue found a tract by the door.
It said "Little children need no baptism"--she knew her search was o'er.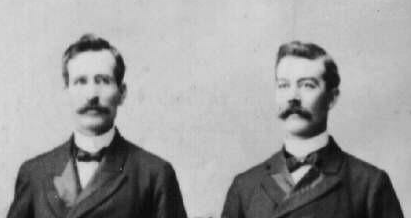 Elders Jones and Spencer
Elders Jones and Spencer paid her a call, and gave the discussions to Prue.
When George came home from his travels at sea, he was drawn into them, too.
He must have felt the Spirit inside, as they spoke of things eternal,
For when baby Annie passed away, the Elders conducted the funeral.
But the very next month when he was at sea, Prue went and got baptized.
She didn't wait until George got home, and for this was sorely chastised.
Grandpa George remained aloof, not going to church anymore.
George and Prue, they didn't discuss the gospel like before.
Both boys were baptized, while George was gone, and without his blessing.
So when Mary asked if she could be next, it was a time of testing.
He offered her money to change her mind, but Mary refused it all.
She'd rather be baptized and join the Church than anything else in the world.
When George saw she was firm in her choice, he finally gave his "okay",
But still he refused to join them, and chose to stay away.
Despite his struggles, George was faithful and true to his family.
For a while he worked at an Electrical plant, and was home consistently.
The family sang together at night, with banjos and harmony fair,
Sometimes they'd push back the table, and George tap-danced like Fred Astaire!
Though his pride was hurt concerning the Church, he tried to be polite,
When the Elders came to call, sharing their dinner many a night.
They would sing old songs together, as joyful as can be,
And George entertained the Elders, with a banjo on his knee!
The years rolled on 'till 1915, and the world was now at war.
Mary was now 19 years old, and she faced her father once more.
She wanted to gather to Zion, but would have to do it soon.
The Elders were leaving England, and Mary didn't want to sail alone.
She wanted to be on that last ship, with the Priesthood as her protection.
But now she had to ask her Dad, knowing well there'd be contention.
George's heart was troubled and he didn't understand
Why his daughter wanted to leave, to go to a distant land.
His eldest son Dan was in Michigan, and George Jr. was fighting in France.
Another one gone now would break their hearts; Was this her only chance?
"All right, you may go to America," at midnight he finally conceded
"But I don't like that country. I'll never live there!" he repeated.
"You're mother will stay right here with me, and you'll never see us again."
And the stormy session since 9 o'clock, was finally at an end.
Mary's heart was racing as she heard her father's words.
But then she remembered something, a blessing from the Lord,
Wherein the Mission President, had promised her mother Prue,
That if she was true and faithful, she'd gather to Zion, too!
George was working on ships again, and soon was back at sea.
He wasn't at home in November, to see his daughter leave.
Prue took Mary to Liverpool to see her to the dock.
In the darkness of the black out, through the passages they walked.
At last they reached the gangplank where Mary's ship was waiting.
A silent prayer, a last embrace, two full hearts were breaking.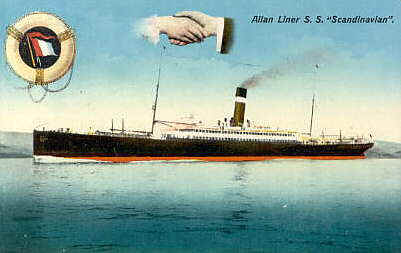 S. S. Scandinavian - Mary's passage to Zion
Mary walked up the gangplank and found a place at the rail.
She watched her mother's shadow fade as the ship began to sail.
November 26, 1915 was the day Mary left her home,
At age 19, she crossed the sea and came to Utah, alone.
The next few months would test her faith, in a new land, and scared,
But what she didn't know just then, was the miracle being prepared.
She struggled to find employment, a place to live, and more,
But while she struggled, she didn't know, there was a surprise in store.
Her trial seemed to reach a peak sometime in February.
The snow was deep and the air was chill when a letter came for Mary.
The letter was her first from home, since leaving England's shore,
But as she read her mothers words, her heart sank even more:
"I do not know where my husband is, or if he'll ever come home,
My son is still in the trenches of France, and young Prue and I are alone.
The days are long but the nights are worse, and I am extremely weary."
It broke Mary's heart to read these words from someone who'd been so cheery.
She burst into tears and fell to her knees, with her heavy burden of cares.
She prayed to the Lord with all her heart that He would answer her prayers.
Her Patriarchal Blessing would be that night, (she had been fasting all day).
And now on her knees, she prayed for her dreams, that the Lord would open a way.
"Let my family join the Church, and to Zion let them be carried,
And let me find a worthy man, and in the Temple be married."
Later that night, the Blessing was given that lifted the heart of the lass,
As she was promised in great detail, her desires would come to pass.
She quickly wrote to her mother, "It's all right, Mom, the Lord has said,
That you will gather to Zion, and He will protect George and Dad."
Now "in the Days of Boats and Trains", the mail was very slow.
And all through Mary's struggle, there were things she didn't know.
During the weeks and months it took, for Prudence's letter to come,
Her father George was passing through a trying ordeal of his own.
His ship had been held by the Germans, in the icy Baltic Sea!
At St. Petersburg, the entire crew, abandoned ship, to flee!
They fled in fear of being captured, or being killed—or worse—
Being put in a concentration camp, even more of a curse.
George lost all his possessions, and crossed the Baltic Sea on a sled.
Norway and Sweden were next to cross, and somehow he stayed ahead.
With the enemy at every turn, and being sick through most of his journey,
It was a miracle that he was preserved, and lived to tell the story.
He finally reached the North Sea, the last stretch of his excursion.
But how could he find a way across these waters patrolled by Germans?
Finally he found a small ship whose crew was willing to take him across.
Their kindly risk was blessed of the Lord, and George got home at last.
The first thing he did upon reaching his home, after his perilous test,
Was asking for baptism into the Church—he wanted to be LDS!
The Book of Mormon, he had been reading, unbeknownst to Prue,
He'd taken it to sea with him, and had known for some time it was true!
He told her he was familiar with all of the doctrines it gave,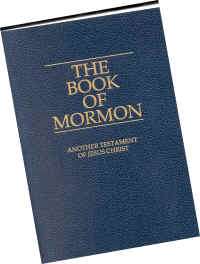 George finally concluded: "...no man could have written that book"
"It couldn't be written by any man", it had God's power to save.
He knew the Elders had spoken the truth, he'd known it quite a while.
He admitted he'd been stubborn, but he'd been softened by his trial.
January 25th, 1916, will shine in our family forever,
When George and his daughter Prudence were baptized in the Sea together!
The West Hartlepool Branch, wrote their names, on their membership page,
When George Bannister Sr., joined the Church, at 60 years of age!
But keep in mind that Mary, who was living so far away,
Had no idea of the blessing that had happened on that day.
She was battling homesickness, finding a job, and more,
And a letter from her mother, that at her heartstrings tore.
She didn't know, at the time she received, her Patriarchal Blessing,
The promises were being fulfilled, even now, in her time of testing!
This was her time to live by faith, and put her trust in the Lord.
So she said her prayers and did her best, and trusted in His word.
Spring and Summer improved her luck, and now it was sometime in June,
When she received another letter, that sang to a different tune.
This one was from Michigan, now who could that possibly be?
She read her father's words in shock--she thought he was still at sea!
He told of his hazardous voyage and of his baptism day,
And now that he was LDS, he had come to the U.S. to stay!
He was living now with his son Dan, building houses to sell at a profit.
He asked her to come and join them there—take the train and then get off it.
Mary struggled and prayed over what to do, then decided this would be best.
So she packed her things and moved once more, this time going east, not west.
George was a very hard worker, and though he'd not built before,
He watched how builders did this and that, and he copied them, ceiling to floor.
He worked at a job throughout the day, and built his homes at night.
Each new house exceeded the last, and he saved every penny he might.
The four-room house on the edge of town, he built for his dear wife Prue.
When she finally joined them in 1917, Mary's dreams were coming true!
The next few years brought ups and downs, like all of our lives,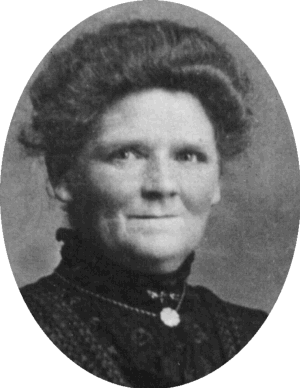 Prudence Bannister
we know.
But there were also great blessings, and times to help them grow.
Mary found a "Yankee Mormon", a righteous man so fine.
Then Prudence Bannister passed away in 1929.
George Sr. lived with Mary and Clyde, off and on while he grew old,
They lived in Utah and Idaho, but he couldn't stand the cold.
It was grandpa George who heard the call of sunny California--
It was George who led Clyde and Mary there, (we thought we would inform 'ya!)
He did return to Michigan, to live out the rest of his days,
He passed away in '33, on the very first day of May.
Mary paid tribute to her dad, and his "grim determination".
Before he joined the Mormon Church, he used to, on occasion,
Drink a glass of beer or two, and he smoked his pipe every day,
But when he decided to be baptized, he threw them both away!
He even shaved his mustache, and so became a new man!
He faithfully kept the laws of the church, even up to the end.
So what can we learn from these stories of our dear ones gone before?
They are in us, and we are in them, but what would they tell us more?
It's never too late to make a change, no matter what you've said.
George Bannister showed us all the way: "just do it before you're dead!"
It took 15 years and a narrow escape before he became committed.
But afterwards for many years he said he was glad he did it.
As we review his story, it is not very hard to see
The parallels in our own lives, in our own family.
The problems and frustrations that may pull at our attention,
The issues that may take a while, and sometimes cause contention.
But don't give up, have patience and faith, as you work with those you love,
And remember Heavenly Father's also watching from above.
He hears our every heartbeat as we bow and kneel to pray,
And He might be trying to tell you that the blessing's underway!
So courage take, and patience hold, as on through life you forge,
Just say a prayer, and do what's right, and think of Grandpa George!
Stories Index | CAR MBR Home Page