The Lord is No Respecter of Persons
by Mary Bannister Russell
The biography I was reading was intensely interesting. Having known loneliness and hardship through the dark days of immigration and also later through the depression, I was sensitive to the tribulation and persecution that had accompanied the life of Joseph F. Smith, son of Hyrum Smith.
Born while his father and uncle Joseph were condemned to be shot, and left fatherless at the age of six years, he had to grow up quickly. To help his mother Mary Fielding Smith to cross the plains, the now eight year old boy drove an ox team all the way. He was allowed only four more years of the companionship of his mother after they reached Salt Lake valley. Now deprived of both parents he was indeed bereft. I read of his mission to Hawaii when fourteen years of age and my emotions were stirred to the depths.
Joseph F. Smith, 6th President of the Church of Jesus Christ of Latter-day Saints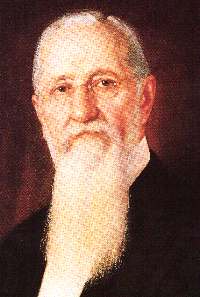 However, it was the experience of later years, when President Joseph F. Smith was President of the Church of Jesus Christ of Latter-day Saints that causes me to write. It happened in March of 1898 when his beloved daughter Ruth passed away. President Smithís words are most eloquent, and as I read of this experience my soul swelled with an intensified knowledge of the divine mercy and justice of God, such as had never stirred me previously.
President Smith writes: "Oh how I loved that child! She was intelligent beyond her years; bright, loving, joyous and choice. But she is gone to join the beauteous and glorious spirits of her brothers and sisters who have gone before!..." Now the tone changes and he is transported from sorrow to rejoicing:
"Oh my soul, I see my own sweet motherís arms extended, welcoming to her embrace my own sweet babe! Oh, my God, for this glorious vision I thank Thee! And there, too, are gathered to my Fatherís mansion all my darling loved ones, not in infantile helplessness but in all the power, majesty and glory of sanctified spirits! My darling little petling in her own bright home with those of her brothers and sisters who had preceded her. Now blessed, how happy is she! How sorrowful are we!" (Life of Joseph Fielding Smith, by Joseph Fielding Smith, p. 463).
At this point in the biography my mind performed a flash back to the nineteenth of August, 1929. After receiving a telegram in my Salt Lake City home three days previously, which informed me that my mother had fallen and was seriously hurt, I gathered up a few necessities. With my three small children I boarded the first train for Chicago, at which place I would change for Detroit, Michigan.
It was now three P.M., the nineteenth of August. I had arrived at five P.M. the previous day and I was sitting by my motherís bed. She was eager to catch up with all that had happened since I left for the West one year previously. Mother wanted to hold my seven month old baby, saying "Put him in my good arm". This was her description of the only limb that was not in a cast. "Mary", she said, "did I ever tell you about the experience I had in Australia?". "Yes Mother, you did, but tell me again. I love to hear it."
"Well, of course, this was before you were born and before I knew anything about the Mormon Church. Your father and I had joined the ĎChurch of Christí, because they believed in immersion. We had agreed that immersion was the mode of baptism taught in the scriptures. In spite of obeying my fatherís orders to attend the Church of England until I was twenty one years of age and seeing innocent babes sprinkled each week, I never believed that it was necessary."
Prudence Morley Bannister,
Mother of Mary Bannister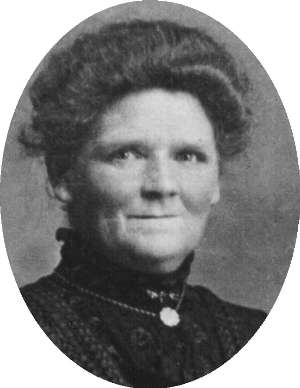 "I had now been in Australia for eight years, and during this time I had buried two small boysóone four and one two and one-half years old. Now I was expecting my sixth child, and as I sat in my rocking chair I had a dream. It seemed that my new babe had been born. I was holding him in my arms, rocking and loving him." At this point mother always waxed eloquent as she described this baby. "Oh Mary, he was so beautiful! Such lovely brown eyes, and intelligence flowed from every feature. I cried aloud in the empty room ĎOh Father, let me keep this baby, please, donít take this one away from meí. As the words hung in the air the door opened, and my much loved mother, who had passed away from this life before I left England, came into the room. she came to me with her arms outstretched, her face full of love and compassion. Carefully she unclasped my arms which held the baby tightly, and holding him to her own bosom she said ĎDonít fret about the children, Prue, Iíll take care of them for youí. While seeming to envelope me in her love, she backed away and left the room with my baby in her arms. I was left with the ache of empty arms and the sure knowledge that I could not keep my baby. Our home was blessed with his presence for seventeen days, then he joined his brothers and his grandmother in the spirit world".
Oh, the desolate empty arms of a true mother so bereft. Rachel mourning for her children and refusing to be comforted! But faith was triumphant in her answer to a denominational minister who called on her: "Lady, have your children been sprinkled?. "No, sir, I donít believe in it." "Then Iím sorry to tell you your children have gone to hell". "Sir, where those children have gone I will be glad to go, and if that is the only consolation you have to offer me, there is the door." It was an answer worthy of a good courageous English woman and it never varied in the telling by one word or shade of expression.
The biography fell from my lap and the thud brought me back into the present. While musing on the experiences of one father and one mother, I sensed more clearly than ever before the mercy and justice of God as expressed by the Apostle Peter to Cornelius, " In very deed I perceive that God is no respecter of persons, but in every nation he that feareth Him and worketh righteousness is accepted with Him". (Acts 10: 34,35.)
I was born in time to see the further dealings of the Lord with His daughter. After the loss of the last baby son, my parents returned to England. My landing in their home was scheduled for July, 1896, their seventh child and the first one born in England. There came a day when Mother found a tract on the floor in the hall, which must have been pushed under the door. There was a title, or course, and what would you guess to be the title the Lord would chose to attract this mother?. "Little Children Need No Baptism" it said. She read quickly, literally drinking in the words of eternal life. Her faith was justified and proved scriptural. When baby Annie passed away in 1901, Elder Jones and Elder Spencer were asked to take charge of the services.
The rest of the Gospel was sweet manna to Motherís heart, and she and two sons were baptized in the North Sea. But the sword of the Gospel, rather than itís peace, was to be her lot for the next fifteen years, at which time my father was baptized. Mother never realized her intense desire to see a Temple, but in spite of the stern denial given by my father (See In the Days of Boats and Trains, New Era, Aug 1978), he did come to America. In the evening previous to her talk with me, he had promised her that as soon as she could travel, both of them would come to my home in Salt Lake City. Then she would not only see a Temple but would enter one.
Her joy knew no bounds, she was bubbling over and after finishing her narrative about the babies she gave expression to her feeling in typical English fashion. "Mary, I am so happy I would not change places with the Queen of England!"
How wonderful it was that when the unexpected call came to her to join her babes and her mother, just one hour later, she could meet them in such a joyous mood! I am grateful beyond expression for the divine comfort that Father gave to His daughter in her extremity.
Stories Index | CAR MBR Home Page